48 Hour Discovery Inc.(48HD) has a powerful new technology platform for peptide-based drug discovery. Our technology can discover drug leads in days rather than months.

We accelerate discovery to find new and better drugs in massively high-throughput screens based on DNA-encoded molecular libraries and proprietary algorithms. Our patented technology, which combines phage display and next generation sequencing, can screen billions of unique peptides within weeks.

We provide peptide-based drug discovery services for global pharmaceutical companies and also utilize the platform for internal discovery programs. The global peptide therapeutics market was valued at $28.5 billion (USD) in 2021 and is expected to grow at a CAGR of 9.66% over the forecast period. (Research and Markets 2021).

Our unique platform enables the rapid identification of both standard and macrocyclic peptides, which exhibit excellent potency, selectivity, and GI stability for oral delivery. In addition, our technology is well suited for cell based targets, an area of drug discovery that has traditionally been challenging for peptides and antibodies.
Using our platform technology, we rapidly sort through libraries containing billions of peptides, to find the best candidates, data, and information for targeted drug development. We provide open data accessibility for researchers in academia and industry that other platform competitors do not provide.

Service: Contracts with clients from pharma, research, academia, and startups

Product: Provision of Cloud + Libraries to other discovery ventures

Platform: Ongoing discussion of limited use license of our technology to research centers and pharmaceutical companies.

Competitive Advantage Through Science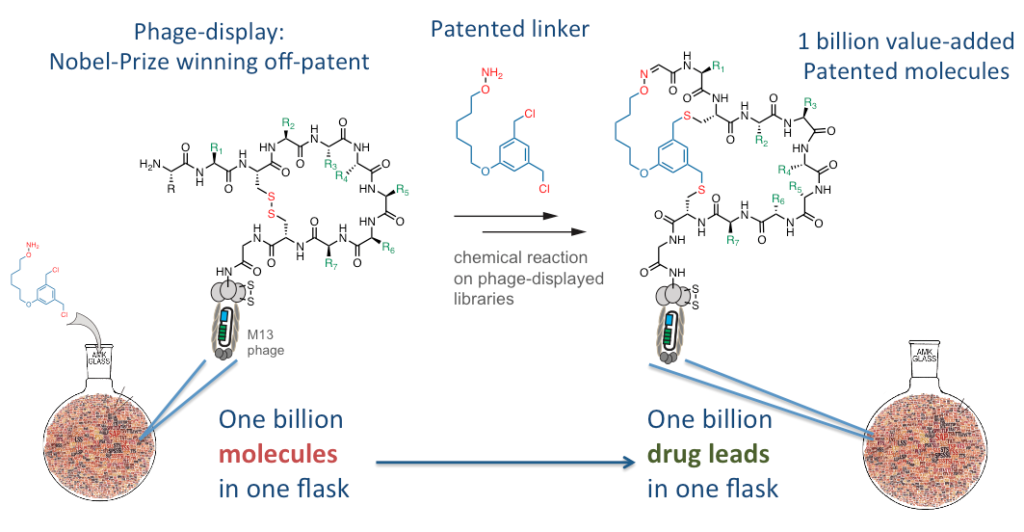 Current drug model:
Discover from 1 billion random points with High Throughput Screening, then optimize.

$500K-$1M and 6-12 months of time.
48 Hour Discovery Model:
Discover from 1 billion optimal
starting points.


Only $50K and 1 week through our platform


Our patented linker leads to 1B optimal starting points that could be up to 10x more stable than some of our leading competitors.
Competitive Advantage Through Information Technology
Manage your peptide data securely in the cloud

Browse data of 2,000,000 ligands from 10,000+ screens

Our technology allows data search, cloud visualization, and analysis of user curated content that is open and secure to access.

The informatics and algorithms of our platform make our panning processes more effective and rapid than those of our competitors so customers can make better informed decisions.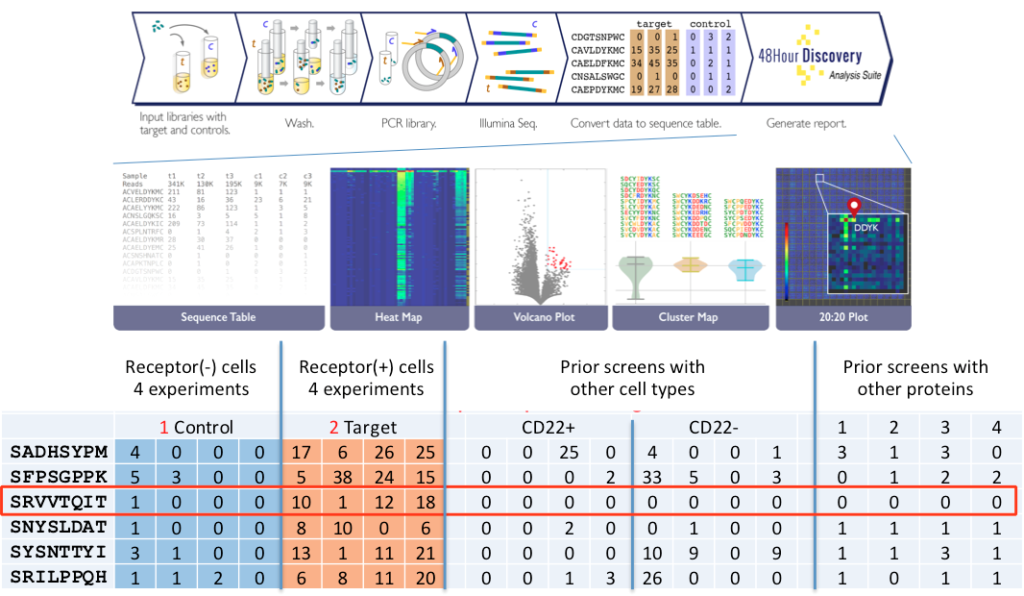 Dr. Derda is an Associate Professor of Chemistry at the University of Alberta. He is the author of over 45 peer-reviewed publications and is the inventor on 10 patent applications (three issued patents). He is also an advisory board member of Organic and Biomolecular Chemistry Journal, and recipient of several awards including the David Gin New Investigator Award from the American Chemical Society (2017), Martha Cook Piper Research Prize from the University of Alberta (2017), Rising Star in Chemical Biology award from International Chemical Biology Society (2015), Young Investigator Award from Boulder Peptide Society (2014) and the Gold Medal at the XXIX International Chemistry Olympiad (1997).
David Alton holds an MBA and from the University of Alberta. David's career has spanned the public and private sectors. He was a senior manager in the Federal Government before moving to the University of Alberta holding Director positions with the National Institute for Nanotechnology and the Alberta Cancer Diagnostic Consortium. David has in depth experience in starting, operating and financing new technology companies. He is a co-founder of four spin-off biomedical companies from the University of Alberta.
Dr. Dwyer obtained his PhD from Johns Hopkins University. He spent his early career at Trimeris, Inc. where his group used a combination of phage display and rational design to discover a HIV fusion inhibitor peptide that successfully completed phase I clinical trials. He has held leadership positions at Medimmune and Pfizer, and most recently was the Director of Protein Engineering at Ferring Pharmaceuticals. Dr. Dwyer has nearly two decades of experience in the discovery of peptide and protein biologics in the pharmaceutical setting and a proven track record of moving biologics from discovery to preclinical studies.
Dr. Cao completed her Ph.D. in Electrical and Computer Engineering from the University of Alberta. Shortly thereafter, she joined the Derda Research Group in August 2017 as a computing research assistant. Jessica's research in the Derda lab focused on database design, management, web application development, data visualisation and analysis. She transitioned to 48Hour Discovery in April 2018 as Lead Data Scientist, where she focused on the implementation of data science and machine learning in our data analysis pipeline. She also was responsible for leading the development of web application and database. Dr. Cao has nearly 8 years experience of algorithm development, software development and database management. She also has extensive experience with Data Science.
Since 2017, 48HD has raised significant private equity and non-dilutive funding and had 19 revenue generating research and service contracts with pharmaceutical companies and research institutions. Our customers include 5 of the top 20 pharmaceutical companies in the world. The service side of our business generates revenue, with surplus going into internal drug programs.

Internally, 48HD has built a strong technical team capable of executing contracts and building both Cloud and SaaS capacity. Our patented platform attracts established players and generates licensing interest and service contracts from large pharmaceutical companies and research organizations.

Our platform has diverse potential revenue streams across multiple markets. Currently, our contracts are within the drug discovery services market, estimated to be $11B USD in 2020, with a CAGR of about 14% (Market and Markets 2020). We are also developing three internal drug development programs for diseases with multi-billion-dollar market sizes.


48 Hour Discovery is seeking financing from private investors and venture capitalists to accelerate its internal drug programs. A new investment round will open in fourth quarter of this year to expand 48HDs' internal drug development program.