48 Hour Discovery Inc.(48HD) has a powerful new technology platform for peptide-based drug discovery. Our technology can discover drug leads in days rather than months.

We accelerate discovery to find new and better drugs in massively high-throughput screens based on DNA-encoded molecular libraries and proprietary algorithms. Our patented technology, which combines phage display and next generation sequencing, can screen billions of unique peptides within weeks.

We provide peptide-based drug discovery services for global pharmaceutical companies and also utilize the platform for internal discovery programs. The global peptide therapeutics market was valued at $28.5 billion (USD) in 2021 and is expected to grow at a CAGR of 9.66% over the forecast period. (Research and Markets 2021).

Our unique platform enables the rapid identification of both standard and macrocyclic peptides, which exhibit excellent potency, selectivity, and GI stability for oral delivery. In addition, our technology is well suited for cell based targets, an area of drug discovery that has traditionally been challenging for peptides and antibodies.
Using our platform technology, we rapidly sort through libraries containing billions of peptides, to find the best candidates, data, and information for targeted drug development. We provide open data accessibility for researchers in academia and industry that other platform competitors do not provide.

Service: Contracts with clients from pharma, research, academia, and startups

Product: Provision of Cloud + Libraries to other discovery ventures

Platform: Ongoing discussion of limited use license of our technology to research centers and pharmaceutical companies.

Competitive Advantage Through Science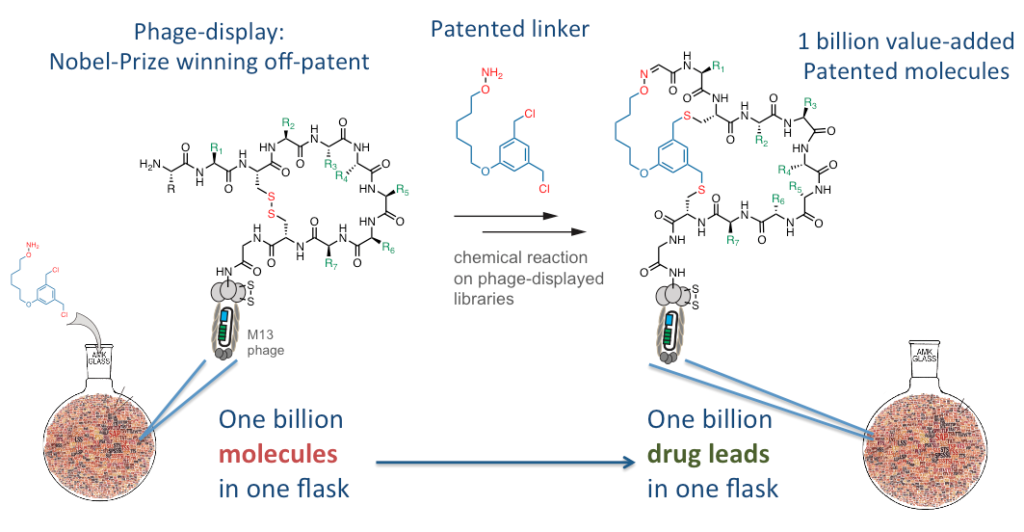 Current drug model:
Discover from 1 billion random points with High Throughput Screening, then optimize.

$500K-$1M and 6-12 months of time.
48 Hour Discovery Model:
Discover from 1 billion optimal
starting points.


Only $50K and 1 week through our platform


Our patented linker leads to 1B optimal starting points that could be up to 10x more stable than some of our leading competitors.
Competitive Advantage Through Information Technology
Manage your peptide data securely in the cloud

Browse data of 2,000,000 ligands from 10,000+ screens

Our technology allows data search, cloud visualization, and analysis of user curated content that is open and secure to access.

The informatics and algorithms of our platform make our panning processes more effective and rapid than those of our competitors so customers can make better informed decisions.